So last weekend I had the honour of being asked to be the "Featured Quilter" at the Boundary Bay Quilt Show in Tsawwassen, BC.  This is my traditional guild that I have been a member of for many years.
I got an entire 12' by 24' space to showcase my quilts.  Believe it or not, after 25 years of quilting, I didn't have enough space to show all of my quilts.  I have also given many away, especially over the last few years.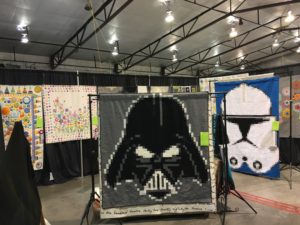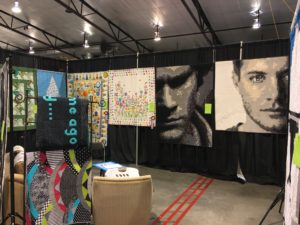 I set up a "chill out" area with a couch and chair for people to sit and enjoy the quilts.  My vision was to have my booth a bit more like a booth at Quilt Market.  To be honest, not many people sat down.  I think they thought it was part of the display.  Oh well.
I ended up showing my first two quilts and then showed my favourites.  I made a Blurb book of all of my quilts to document them, including the ones that had been gifted.
I got lots of compliments on my quilts and was told by a few people that they had apparently come to the show just to see my quilts.  Nice!!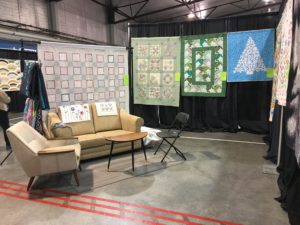 My "Text Me" quilt, which was behind the couch, was very popular.  It is made from mostly text prints and was based on the pattern, "City Loft" from the book "Urban Views" by Cherri House.  Her quilt was made all with solids (only black and red).  I used text and tone on tones but added grey and black tone and tone fabrics instead of only red.  I did circular quilting on my domestic machine – which was quite effective.  Anyway – it was an unexpected favourite.  I made it for my friend, Alan who lives in Toronto.  I guess I had better get it to him sometime – given that I made it in 2014…
This is Cherri's quilt.  (photo courtesy of Blue Nickel Quilts)  It is very different than mine.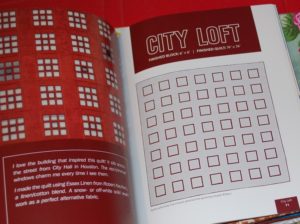 I realized I had lots of Australian inspiration in my booth.  My two quilts, Little Monsters and Love Birds were both designed by Kellie Wulfsohn of "Don't Look Now" and "Cutting Cloth" a quilt shop in Melbourne, Australia.  Little Monsters won the "Viewer's Choice Award" at the Boundary Bay show in 2010 and Love Birds won "Viewer's Choice" in 2013.  You can get her patterns on either of her two sites.  https://www.cuttingcloth.com.au/  http://dontlooknow.typepad.com/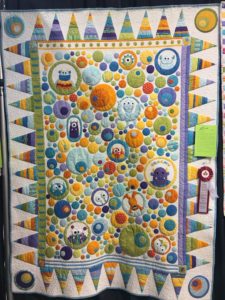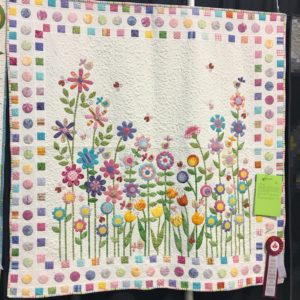 I also had 6 different pixel quilts which were all designed using www.youpatch.com online software.  I love that tool – I am always planning my next pixel quilt. It gives you a one of a kind quilt – but you get a pattern to work from.
Below are my quilts "Little Brother" and "Big Brother".  These are both actors/ characters from the tv show "Supernatural" which is filmed in and around Vancouver.  Little Brother was juried into the Quiltcon quilt show in 2015.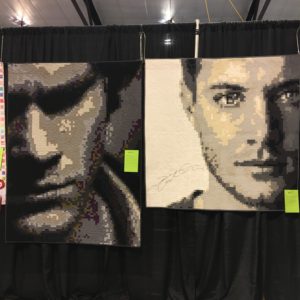 I also showcased a couple of quilts that were not mine.  Arita and Kristen were both kind enough to lend me their quilts, "No Running" and "Aunt Glad's Quilt Parts" that I quilted for them.  Also "Love Birds" is no longer owned by me.  I made it for a friend, Tina a few years back.  It was also very popular.  Thanks Tina, Arita and Kristen!!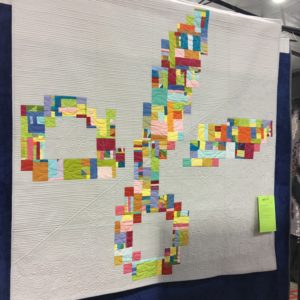 All and all it was a great weekend.  Thanks to those of you who came to visit and support me, including my nephew Nick, who went home with his #youpatchclonetrooper quilt.